365 Perthshire history moments in Scotland
Perthshire and Queen Victoria, Rob Roy, Bonnie Prince Charlie, the Stone of Destiny theft, - Perthshire in Scotland has seen some of the major events in Scottish history. You can browse through the Diary and get a daily lesson, or use the calendar function to search for a particular day.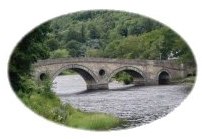 Learn about illicit Perthshire whisky, the Act of Union, the Glencoe massacre, the real Macbeth, Taymouth Castle, Roy of the Hens, Beatrix Potter and Dunkeld. And what really happened in the Gowrie Conspiracy?

John L Wilson's Perthshire History Diary lets you visit the Perthshire towns of Perth, Blairgowrie, Alyth, Aberfeldy, Kenmore, Pitlochry, Dunkeld and many more. Just use the Diary's Search function to find them all.

For every single day of the year, the Diary has a story about something that happened on that day in Perthshire, at a point in history. Built up over years of research, the stories are interesting, amusing and sometimes astonishing!

Gleaned from church parish records, local history books, old newspapers like the PA and Blairgowrie Advertiser, urban legends, rumours and street tittle-tattle, every day's story tells you a little bit about life in the Scottish enclave that is the gateway to the Highlands of Scotland.

With a mixture of present day photographs and old originals from sources including the AK Bell library in Perth, you can really get a sense of what it could have been like to live in those olden times. ..... Click here for today's Perthshire Scotland moment!