Wolf of Badenoch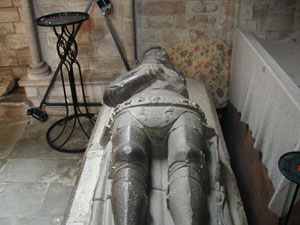 The Wolf lies in Dunkeld Abbey

Alexander Stewart, fourth son of King Robert 2nd, was better and perhaps more appropriately known as the Wolf of Badenoch. He had been granted the lands of Badenoch by the King and later held the office of Justiciary North of the Forth acquiring new areas of land in the process.

But his greatest prize was Euphemia, Countess of Ross who was unfortunate enough to lose her husband in 1380. Two years later Alexander married the lady. By his marriage he fell heir to large tracts of land in Buchan and the north of Scotland together with Forgandenny, Kinfauns and parts of Atholl in Perthshire. It was around this time that he built Garth Castle, near to Keltneyburn, which must have seemed at the time to be quite impregnable.

The Wolf was very fond of women but didnít care much for his wife. He was alleged to have over forty illegitimate children but no legal issue. In fact, he sent his wife away so that he could live with Mariota, daughter of Athyn. This particular act roused the Bishop of Moray and Ross to place an interdict on him to return to his wife and cease to maltreat her.

Now, there is no doubt that though Alexander liked the pastime of fornication, what really turned him on was a spot of rapine and general hell raising. He decided to teach the Bishop a lesson and with his followers he proceeded to ravage the Bishopís lands and to burn down the towns of Forres and Elgin including the Cathedral. It was only a lucky accident that prevented the Bishop from being burned too. Even in these lawless times this was considered to be going too far and eventually the Wolf made public penance in Perth and the ban of excommunication that had been placed on him was lifted.

He died in 1394, much mourned by his wild caterans and his many children, and was buried at Dunkeld Cathedral. It seems an inappropriate resting place for such a man. Within the Cathedral may still be seen his tomb on top of which is a stone effigy of Alexander.