A Canadian Premier from Logierait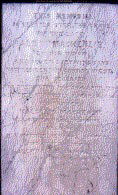 Memorial plaque in Logierait churchyard

Alexander Mackenzie, Premier of the Dominion of Canada, was born in the village of Logierait, one of seven children.

His father, also Alexander, was a joiner (records refer to him as a 'wright' - a maker of things) by trade who died in 1836 in Dunkeld, and lies buried in Logierait churchyard *.

In 1842 Alexander Jnr. emigrated to Canada. Five years later, in 1847, his mother and seven brothers (three other brothers having died young) followed him.

They prospered, and no less than three of the sons became members of the Canadian Parliament, but none more so than Alexander.

He returned to visit Scotland in 1875 and enjoyed something of a triumphal tour. As the Perthshire Advertiser put it. "His road lies literally paved with Addresses."

Literally? He received the freedom of Perth and Dundee and on July 20th he returned to Logierait where a special banquet was prepared in his honour. In return, Mr Mackenzie gave his audience a rip roaring speech on the subject of the USA:

"he expressed his friendly feelings towards the United States. While he would not say an unjust word of the United States in order to magnify his own country, the sight of their flag, the stars and stripes, could not prevent him from bringing to mind that Canada was the only absolute free country on the whole of the North American continent; he could not forget that Canada alone was the friend of the downtrodden and oppressed; he could not forget that while the United States trafficked in flesh and blood they in Canada exercised their whole energies in the opposite direction. They had no reason to be grateful to the United States for anything."

Having got that off his chest he further delighted the gathering by proposing a toast in Gaelic to his native district. "Tir nam beann nan gleann s nan gaisgeach." (Land of mountains, glens and heroes.)

By all accounts it was a very successful evening.