Competition at Candlemas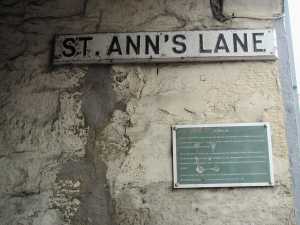 Lane to the old grammar school

Candlemas is the festival of the purification of the Virgin Mary when wax candles are blessed. It is still one of the quarter days in Scotland and at one time was an important day for every schoolboy. It was the day when each child dressed in their best clothes, brought with them a monetary offering to their schoolmaster. As he read out their names each boy or girl came forward with their gift which was carefully noted down.

At the finish of the ceremony, the boy and girl who had given the largest amounts of money were declared Candlemas king and queen. Normally they were carried home on the king's or queen's chair, being the crossed hands of two of their attendants. A school holiday was declared and usually in the afternoon the children lit the Candlemas blaze round which they danced. In some cases football matches were also played. In the 18th Century the Candlemas offerings could be a very important part of the teacher's salary, for they were on the whole abominably paid.

At the old grammar school in Perth situated in St Ann's Lane, Candlemas was celebrated in the usual way with the children in their best clothing coming forward with their gifts which the Rector announced in Latin. Invariably there was keen competition for the titles of Candlemas king and queen. It is related upon one occasion one boy put down a guinea believing that this would ensure the honour for him, but parents of a rival child gave him two guineas. The contest continued between the two children and their parents until eventually one family had laid down twenty four guineas and the other twenty five.

In 1734 the pupils gave a series of readings in Latin and English in St John's Kirk after the ceremony. Later in the week they acted Cato in the school before an enthusiastic audience of three hundred. Fired by this success, the following year the boys performed the tragedy of George Barnwell twice to great applause. Such activities were too much for the kirk Session who protested that the school was being "converted into a playhouse, whereby youth are directed from their studies and employed in the buffooneries of the stage." There was a further blast from the pulpit that Sunday and thereafter Candlemas was celebrated in a more circumspect manner.

By the beginning of the 19th Century the custom had started to lose ground and by 1850 had died out altogether from the schools.